Ashes, Charcoal and Wick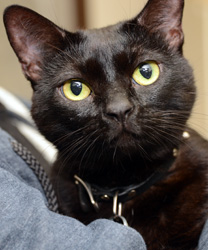 July 12, 2014 - Meet Elizabeth and her three little kitties, Ashes, Charcoal and Wick. To be honest, only one is a little kitty; Charcoal, a sweet 10 lb. black cat. Brothers, Ashes and Wick, weigh in at 16 and 20 lbs. respectively! (Pictured, Charcoal)
Elizabeth contacted us in June, all of her cats were suffering with chronic ear infections, and had not seen a vet in over three years.
Physically disabled and unable to work, Elizabeth could not afford the necessary care for her pets, so she reached out to Sam's Hope for assistance.
On her application, she wrote: "My cats are my life. They are what keep me going. I just want them happy, healthy and safe."
Elizabeth, her roommate, and the three kitties arrived at our support veterinarian's office early on Saturday morning. (Pictured, Elizabeth and Wick)
Ashes, Charcoal and Wick each took turns on the exam table; ears were cleaned and checked, and shots were adminstered.
Elizabeth mentioned that she believed they might have tapeworm, (unfortunately, she did not bring in samples), so our vet prescribed Revolution which will address the mite, flea and tapeworm problems all three cats are experiencing.
We will follow up with Elizabeth and her little band of kitties in about a week to see how they are progressing.
In Collaboration With: