Chi-Chi and Shadow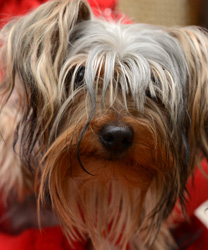 December 27, 2013 - Meet Liz, a widowed senior living on a fixed income. She is the proud mom of three pets; Shadow, a black Labrador Retriever, Chi-Chi, a Yorkshire Terrier, and a Siamese cat.
Liz contacted Sam's Hope during the Christmas holidays for help with her two dogs; both were overdue for their annual check ups and shots, and Shadow needed help for his overgrown nails which were causing him considerable discomfort.
Unfortunately, Liz could not afford to provide the needed care for her pets, as she just gets by on Social Security.
February 18, 2014 - Almost 2 months since our original contact, we finally meet Liz, Eddie and Chi-Chi at our support veterinarian's office at 10:30 AM.
Chi-Chi, a sweet, one year old Yorkie took her needles without so much as a wince, but when it came time to clip her overgrown nails, it took three of us to get the feisty. 10 lb. dog's nails cut. She was quite a handful, but so sweet and loving all the same!
Shadow was not present, as he refused to get into the car. Even with the help of Eddie, Liz's young friend, they could not get the 125 lb. Lab to cooperate. To assist with the next attempt, doc prescribed an anti-anxiety and suggested slices of cheese as a lure. We will try again next week!
Updates: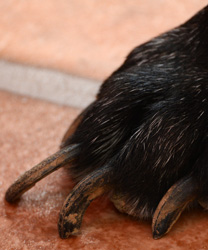 February 25, 2014 - Even with the anti-anxiety medication, and the favorite food lures, we cannot get Shadow to cooperate and get into the car. We will try again next week!
March 4, 2014 - Liz went to the pet store and purchased a harness to see if that would help in getting Shadow into the car and to the vet's office. No luck, even with 3 people trying, he just refuses to get into the car. He is big and stubborn as heck!
March 22, 2014 - Success! Shadow had his nails clipped, as well as his yearly exam and shots. How did we do it? Well, instead of taking Shadow to the vet, we had the vet go to Shadow.
In Collaboration With: