Cleo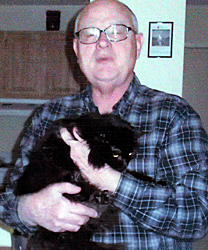 March 22, 2014 - Meet Bob, a disabled senior on a fixed income, and his 11 year-old rescue cat, Cleo.
Cleo was up to date on her immunizations, but since her vet visit in July 2013, a slow-growing lump developed on her back that was causing Bob quite a bit of concern.
Despite his concern, he could not afford to take Cleo to the vet to have the lump examined and treated. Sam's Hope awarded a grant to Cleo for examination of the dime-sized lump and nail clipping.
Thankfully, examination of the lump revealed it was merely a cyst, which was aspirated by the vet. Cleo's nails were clipped and a senior diet was recommended.
Bob rescued Cleo and her brother Max from the SPCA 10 years ago, when they were one year old. From the beginning, Cleo was 8 lbs. of attitude; to her way of thinking, she was #1 in the house, Bob's roommate was #2, and Bob and Max were #3. That is how she wanted it, and that it the way it was to be.
Cleo has seen her share of adversity; including the passing of her brother Max two years ago.
Today she has settled into her roles of greeter cat and lap cat.
In Collaboration With: