Hercules, Papi, Darla and Giovanni
November 4, 2013 - Meet Elizabeth, a student at Temple University majoring in journalism, and her Dad Richard, a retired airline Captain.
They are the wonderful parents of a large family of rescued pets; four dogs, two cats and a ferret.
Elizabeth contacted Sam's Hope in early November, all four of her dogs were overdue for their yearly check-ups and immunizations. Two of the four dogs, Darla and Papi were also having issues that needed attention.
Unfortunately, they could not afford to provide the needed care for their pets; Elizabeth became disabled after brain surgery, and Richard lost his job and retirement when Eastern Airlines went out of business. They get by on social security and Richard's job at a local Mom & Pop deli.
December 6, 2013 - We met Elizabeth, Richard and the gang at our support veterinarian's office at 11:00 AM. The dogs were all excited, thinking that their trip in the car meant they were going out for their daily run. Boy, were they in for a surprise!
Little Hercules, the 9 lb. Chihuhua was up first, he took his shots like a champ; then it was Papi the Papillion's turn.
Papi was suffering from a recurring bladder infection, which was causing him to constantly pee all over the house. He was examined, then prescribed antibiotics, a special diet and given his shots.
Next up, Giovanni, the sweet and beautiful Staffordshire Terrier, then Darla the Pittie Mix.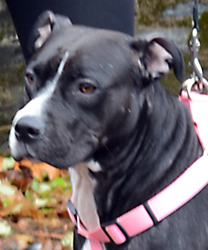 Darla has skin issues, which started to improve before her appointment due to Elizabeth's use of a medicated shampoo. The hair had begun to grow back, so the vet advised her to continue with the current treatment and suggested a change to her diet.
It was such a pleasure meeting Elizabeth and Richard, their love for ALL animals is so apparent. Both are vegetarians because of animal cruelty. Elizabeth has been intrigued by animals since she was three feet tall, and has taken in animals that needed help. Her dad Richard supports her in her quest to do her best for all animals.
Elizabeth and Richard, members of a writing group at the Pearl S. Buck House, are working together on a book about their lives, which will include stories of their wonderful pets.
In Collaboration With: