Lucy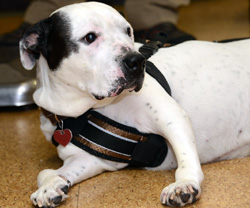 April 4, 2014 - Meet Lucy, a 10 year old, quadriplegic Staffordshire Terrier.
Lucy hasn't had an easy life; frightened, abandoned and abused, she found herself on death row at a New Jersey animal shelter when she was 5 years old.
At that same time, her current mom, Carol, who recently lost her two beloved dogs, was in search of a special best friend.
When she saw Lucy's photo and story on the shelter's website, she couldn't get Lucy, then named Ethel, out of her mind. She made the trip to New Jersey to meet Ethel, fell in love, and adopted her.
Carol noticed right away that something was not quite right with Lucy, she never ran or jumped, and her gait was off. As the years passed, Lucy's joints above her back paws became deformed, and eventually the same problem affected the joints above her front paws.
Lucy, who has been non-ambulatory for over a year now, also suffers from pain in her hips and joints, and cyst-like lumps in the pads of her paws.
Lucy's mom reached out to Sam's Hope in early April for veterinary care assistance. Like Lucy, Carol is also disabled and lives on a fixed income.
April 25, 2014 - We met Lucy and Carol at our support veterinarian's office at 11 AM.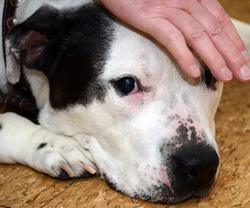 After an examination, it was deterimined that she had pododermatitis with a secondary staph infection, for which she was given antibiotics. She was also given pain medication for the joint and hip pain she was experiencing.
Our vet was unable to determine, and didn't want to try to guess what was going on with Lucy's joints. He said it was out of his area of expertise, and suggested a visit to an orthopedist at Penn Vet or Langhorne Animal Hospital.
Sam's Hope is raising funds for Lucy's visit to an orthopedic specialist, her treatment, and a wheelchair to help her regain her mobility.
Please consider a donation to Lucy's Fund, via the "Donate" button located at the top right of each of our pages. When checking out, please note "Lucy's Fund" on the form.
Thank you for helping us get Lucy back on her feet!!
In Collaboration With:

---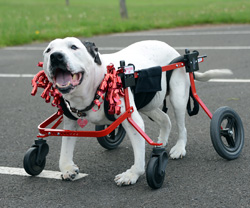 May 17, 2014 - Lucy Gets Her Wheels!
Many thanks to K9 Carts for donating a full-support wheelchair to Sam's Hope for Lucy! Glenn and Barbara are simply the BEST!
Today we presented the wheelchair to Lucy and her mom, Carol. Below is a video clip of Lucy's first attempt at walking in her wheelchair.
With the love, patience and coaxing of her mom, we are convinced Lucy will be walking in no time!
Stay tuned for updates!
In Collaboration With:

---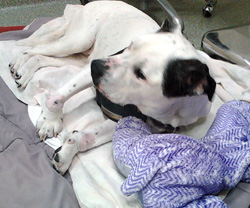 July 2, 2014 - Lucy's Diagnosis
Today we took Lucy to see an orthopedic specialist at VSEC. After seven very long hours of examinations, radiographs, joint taps and waiting, we finally had the diagnosis.
Lucy is suffering from end-stage Erosive, Immune-Mediated Polyarthritis, a condition that has destroyed all of her joints.
Since the condition is end-state, there are limited treatment options, and the focus will be on maintaining her comfort and quality of life.
There is medication available that will stop the progression of the disease, but unfortunately, not reverse it. This will be addressed after pending joint fluid analysis and official radiograph reports confirm this diagnosis.
Though this was not the outcome we hoped for, we are thankful that the progression of the disease can be halted, and her quality of life and comfort can be maintained.