Misty and Murphy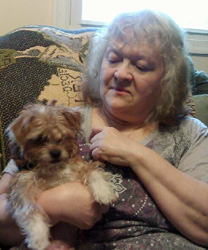 April 3, 2014 - Meet Helen, her cat Misty, and her delightful puppy, Murphy.
Helen is a widowed, home-bound senior citizen that just scrapes by on disability and a small pension.
Her grandchildren, worried about her being alone, gave her a loving, wiggly, wonderful gift that she named Murphy.
Helen was thrilled with the addition of the puppy to her family, but at the same time was concerned that she could not provide for his needs, as she was already receiving pet food assistance from Sam's Hope for her cat, Misty.
Helen reached out to Sam's Hope for veterinary care assistance for her two pets in early April. An appointment at our support veterinarian's office was made for the evening of April 25th.
April 25, 2014 - Misty and Murphy were dropped off at our support veterinarian's office in the evening. They were going to spend the next three hours with the vet.
Misty, who hasn't received veterinary care in over 3 years, got her exam, rabies and DHPP shots, and deworming.
Murphy's visit was going to be a bit more traumatic, as he had to be neutered. He received his exam, rabies, and DHPP shots and deworming. He was also neutered and given pain meds and antibiotics.
Helen and her friend picked up Misty and Murphy 3 hours later; Murphy was his usual playful self, even after surgery!
June 3, 2014 - Murphy was rechecked, received his DHPP, a heartworm test and deworming. He and Misty are good to go for another year!
In Collaboration With: