Old Girl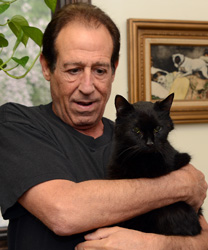 May 28, 2014 - We received a call from Eric, he was very concerned about his cat, Old Girl, who seemed to be dazed, confused, and refusing to eat or drink.
Old Girl is a sweet and gentle black cat that roamed Eric's neighborhood for years.
In August of 2013, Eric opened his heart and home to Old Girl. After adopting her, he took her to the vet where she was diagnosed as FIV+, hyperthyroid, and suffering from a mouth infection.
She was given meds and seemed to be doing well until a few days ago when she stopped eating and drinking, and just seemed to have no energy left in her. He was concerned that Old Girl was failing and needed help fast.
Eric, who is undergoing some major life changes, was unable to provide veterinary care to Old Girl, and reached out to Sam's Hope for help. The help he needed was very urgent in nature, as Old Girl was failing.
05/29/2014 - We met Eric and Old Girl at our support veterinarian's office at 11:15 AM. An exam indicated no problems with her heart. Blood was drawn, chemistry panels indicated that all was well with her kidney's liver, etc., but showed that she was dehydrated. Additional blood was drawn for a thyroid hormone test.
Since Old Girl is FIV+, which severly weakens the immune system, it was advised that she not be allowed outside, as she is very susceptible to secondary infection; most likely the reason for her recurring mouth infections.
Old Girl was given a shot of antibiotics, as well as oral antibiotics. Clearing up her infection should help bring back her appetite and give her back some energy.
She will be re-evaluated after completing her course of antibiotics, approximately 10 days.
Updates:
May 30, 2014 - Old Girl seems to be coming around. She nibbled on some treats and drank water. Her dad purchased kitten milk and a paste nutrient to get her on her way to a quick and full recovery.
June 1, 2014 - Old Girl is improving daily and looking better too. She is also eating and drinking better.
June 2, 2014 - Old Girl's test results are in; her thyroid level is high, and her meds have been increased.
June 3, 2014 - Signs that Old Girl is getting better; she is crying to go outside, trying to escape getting her meds. Seems she is getting back to her good old feisty self!
June 6, 2014 - Old Girl started climbing up the steps to the second floor last night, and played briefly with her stuffed mouse. Daily, her desire to go out increases, and she is eating and drinking well.
In Collaboration With: