Sonnie, Hope and Paris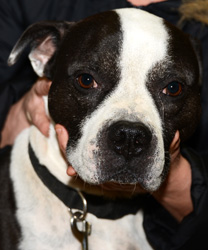 November 6, 2013 - We received a call from Marilyn; a struggling single mom on a limited income. She had recently adopted two adorable kittens that a neighbor "threw away" named Hope and Paris.
Hope was having eye problems which was described as " gook coming out of them."
Marilyn, the mom of two young daughters, could not afford veterinary care for Hope or for her other animals, and was considering the surrender of the kittens to a shelter.
Neither of the 11 week old kittens had ever been seen by a vet, and their beloved 7 year old Pitbull, Sonnie, had not been seen by a vet in 5 years.
November 13, 2013 - We met Marilyn, her daughter Alexis and Sonnie, Hope and Paris at our support veterinarian's office late in the day.
Sonnie was up first, he received his much needed immunizations and exam without a whimper. When his turn was over, he diligently explored his new surroundings while his feline siblings got their turns.
Hope, the kitten with the eye problems was next in line. She was tested for FeLV and FIV, the results were negative!
Examination of her eyes revealed feline chlamydia, for which she was prescribed medicated eye drops to be administered three times per day. She was then given her first round of kitten shots and her nails were clipped. She was so happy to be over the vet visit ordeal, that she took a flying leap off of the examination table.
Last but not least, Paris, the beautiful black kitten received his first round of kitten shots and his nails were clipped. It was also determined that Paris, orginally though to be a girl, was in fact a boy!
The kittens have an appointment for their second round of shots in a month. They will be spayed/neutered in February.
In Collaboration With: