Versace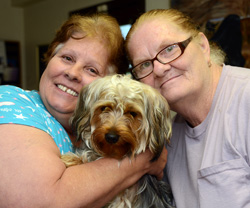 June 13, 2014 - Meet Alice, a grandmother on a fixed income who is raising her four grandchildren, and Versace, her 15 month old Yorkie pup. (From left to right: Alice's sister Betty, Versace and Alice)
Alice recently adopted the lively and vocal Versace from a friend; she thought a dog would be a great companion for her four grandkids.
With four extra mouths to feed, she could not afford vet care for Versace, and reached out to Sam's Hope for help.
Versace received his yearly exam, immunizations and had his nails clipped. Since he is unaltered, we will be addressing that in the very near future.
In Collaboration With: