Zoey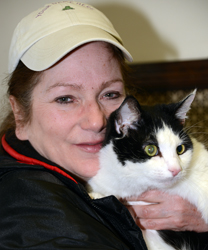 January 2, 2014 - Zoey, diagnosed and treated for flea allergies and ear infections in the past, has inflamed skin, ear infections, and is scratching incessantly.
Her mom, currently not working due to health issues, could not afford to have Zoey treated for her continuing skin and ear problems.
Laura contacted Sam's Hope early in January, hoping to get help for her beloved, itchy, 10 year old cat.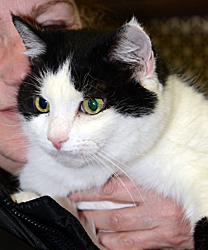 January 31, 2014 - We met Laura and Zoey at our support veterinarian's office for their appointment.
Zoey is a beautiful black and white kitty with the most expressive green eyes!
At first she was a bit hesistant to emerge from her carrier, but with a tip of the carrier and a bit of coaxing, she emerged from the carrier onto the examination table.
During the examination of her body, no presence of fleas was found; examination of her ears resulted in a diagnosis of ear mites.
It was explained that ear mites not only cause itching and scratching of the ears, but can travel elsewhere on the body causing the same.
Zoey was prescribed Revolution, to kill and protect her against fleas, ear mites and other unwanted pests, as well as a broad spectrum ear ointment to help clear any other ear problems that might exist. It is expected that improvement will be seen in about a week.
Zoey will be re-evaluated in three weeks.
February 21, 2014
It was good to see Zoey scab and itch free today; the Revolution and ear ointment did their jobs perfectly.
It was our pleasure to help Laura and Zoey. We wish them a long, happy and healthy life together!
In Collaboration With: