About Us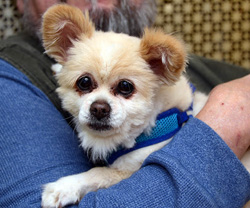 Founded in February 2013, Sam's Hope, is a 501(c)(3) non-profit organization dedicated to saving the lives of companion animals by keeping those facing economic and health challenges, and their pets together through pet food and veterinary care assistance programs.
Sam's Hope was inspired by the founder's beloved Shih Tzu, Samantha, as well as her awareness of the current economic climate which forces many pet owners to surrender or abandon their pets.
It is our hope that all pets can live as ours do; in a loving, forever home with uncompromised care.
---
Our Accomplishments
2019 - The Year in Review
2018 - The Year in Review
2017 - The Year in Review
July 1, 2013 - December 31, 2019
Distributed 600,000+ lbs. of pet food via:
Five Food Pantries
Two Pet Food Pantries
Three Rescues
Directly to Pet Parents in Need
Awarded 372 Veterinary Care Assistance Grants to:
Provided Home-Delivered Pet Food and Supplies to 329 Pets of the Homebound & Elderly via:
Three In-Home Support Programs
One Home-Delivered Meals Program
Two Senior Apartment Complexes
Directly to Pet Parents in Need
Assisted to:
2013
Trap and relocate a small feral cat colony after their caregiver passed away
Find sanctuary for a sick, abandoned terrier
Assist an ill pet owner find sanctuary for his cats
2014
Find loving homes for three senior pets; 1 dog and two cats
Find a loving home Missy, a cat whose owner became ill and passed away
2015
Find a loving home for Murphy, a dog whose elderly, ill owner could no longer care for him
Find a loving home for Muffin, a 12 year old Shih Tzu, who was going to be surrendered to a shelter
2016
Find a temporary foster home for Helen, and 8 year old Pit Bull, that would have otherwise been surrendered to a shelter
2017
Fulfill the last wish of a 95 year dying woman by finding a foster for her two 7 year old sibling cats
Find a home for Zeus, a Bearded Dragon, when his mom passed away
Re-home Pepper, an 8 year old Havanese
Re-home Princess, an 8 month old Pit Bull/ Lab blend
Find a temporary foster home for 14 year old Hooch, when his dad lost his home
Find rescue for Azara, a 7 year old Pit Bull, when her parents split up
Find a loving home for Hampton, a 7 year old Shih-Chon, who was spending 12 – 14 hours a day crated while his mom was at work
Find foster and/or a boarding solution for Brownie, Smookie and Dory while their family finds new, safe and pet friendly housing
2018
Find a temporary foster home for 2 Japanese Chin's, Rakki & Chibi, while their mom was in rehab following a long illness
Donated 881 lbs. of pet food & supplies to the victims of Hurricane Florence, and procured a donated cargo van with which to bring back dogs from the hurricane zone.
Find rescue for a stray momma cat and her 5 kittens
Find transport from Pennsylvania to Ohio for a cat who was rescued from the streets
2019
Rescue, vet and place a 1.5 year old Cairn Terrier that was left in the back yard, 24/7
Donated 875 lbs. of dog food to Harley's Haven Dog Rescue for their Philadelphia vaccination/spay/neuter event that took place on the weekend of April 12th.
Provided foster care for a blind, senior dog when her mom underwent open heart surgery.
Found foster care for a blind senior dog when a family member dumped her at a shelter. 
Rescued, vetted and placed Dolly, a 10 year old Poodle Mix that a cat rescue took in, put in life threatening situations and all around failed her.
Countless Lives Saved - Since 2013!