Eligibility Requirements for Veterinary Care Assistance Grants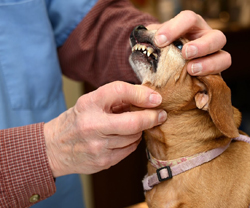 You MUST be a resident of Southeastern Pennsylvania (Bucks, Montgomery and Philadelphia Counties), and meet at least one of the following requirements to qualify for a veterinary care assistance grant*.
You qualify as low income, see chart below
You are unemployed/underemployed
You are receiving government assistance
You are disabled and on a fixed income
You are a senior citizen on a fixed income
You are homeless
Applicant MUST provide:
Proof of identification, (driver's license, or other photo identification with name and address)
Recent proof of income, (check stub, tax return, W-2, 1099)
Proof of qualifying benefits, (Medicaid, Unemployment, Food Stamps, SSI)
Diagnosis, prognosis and treatment plan from veterinarian
Care Credit denial / approval
Six photos; pet alone and with family
Veterinarian's name, address, phone number and medical license number
Completed grant application
Updates, photos and video of pet, if Sam's Hope is able to help
| | | | |
| --- | --- | --- | --- |
| | Family Size | | Yearly Income |
| | 1 | | $12,060 |
| | 2 | | $16,240 |
| | 3 | | $20,420 |
| | 4 | | $24,600 |
| | 5 | | $28,780 |
| | 6 | | $32,960 |
| | 7 | | $37.140 |
| | 8 | | $41,320 |
| | Over 8, add per child | | +$4,160 |
We cannot provide veterinary care grants if any of the following apply:
You have received assistance from Sam's Hope in the past
You are seeking aid for elective surgery, (surgery not required for survival)
Your pet has completed treatment and you are seeking reimbursement or help with an outstanding bill
Your pet is terminally ill, with little or no chance of survival
You have not applied for CareCredit
You have applied for CareCredit and were approved
If you meet the above eligibility requirements, please:
Email the following to samshope.org@gmail.com, or snail mail to address at top of application:
Completed application
Driver's license or photo ID
Proof of income and/or benefits
Care Credit denial/approval
PLEASE NOTE:
Our grant capacity is subject to the availability of funds.
Funding is paid directly to the treating veterinarian; it is NEVER given directly to an individual.
If you live outside of Southeastern Pennsylvania please visit our Veterinary Care Assistance Resources page to see what is available in your community..
At this time, we are NOT able to provide funding for medical emergencies. If you need immediate help, please visit our Emergency Veterinary Assistance Resources page.