In Loving Memory of...
Those we have held in our arms for a little while, we will hold in our hearts forever.


Jeanne Schmidt
Date of Birth: November 9, 1954
Date of Passing: October 5, 2019
Jeanne Anna Schmidt of Hatboro, Pennsylvania died Saturday, October 5, 2019 with her loving husband by her side. She was 64 years old.
Jeanne was born November 9, 1954 in Philadelphia, Pennsylvania, daughter of the late Victor S. Marzocco (AKA Marzo) and the late Jennie A. Marzocco (AKA Marzo) (nee - Boguszewski). She is the beloved wife of Jeffrey Schmidt; loving mother of Jennifer Gibilante and her husband Mike, Joseph Hafner, Victoria Hafner, Jeanne Hafner, Jessica Frey and her husband Tom, and Joanna Michalski and her husband Paul; beloved Mom-Mom of Gabriella, Isabella, Annabelle, Andrew, Anna, Ryan, Jolene, Greg, and Jude; sister of Roger Marzo and his wife Dolores and the late Victor Marzo.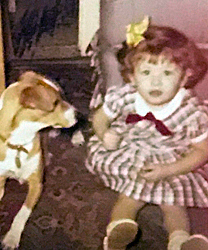 Jeanne was born in Philadelphia, and at a young age, moved to the Glenside neighborhood of Pennsylvania where she was raised, graduating from St. Luke's Parish School and Bishop McDevitt High School. She pursued higher education at Montgomery County Community College where she studied Art. In her day to day life, Jeanne was known for being a fierce advocate for rescue dogs and for her cooking, especially her gravy (not sauce!) and meatballs.
| | |
| --- | --- |
| Honored by: | |
| | |
| Elena Becker | Edmund Black |
| Saurabh Desai | Beth Forbes |
| Sharon Gerczyk | Joanne Gibilante |
| Thomas & Maria Michalski | Doc & Candy McCourt |
| Paul & Frances Baker | Carol Majewski |
Donations made to Sam's Hope in Jeanne's memory will be used to create Jeanne's Memorial Fund which will be used to assist small dogs, (like her beloved Twinkie), in need of veterinary care.