In Loving Memory of...
How lucky I am to have something that makes saying goodbye so hard. - A.A. Milne (Winnie the Pooh)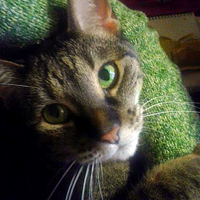 Remy (Baby Girl) Dunn
Beloved Kitty of Lyndsey Dunn
Born - 1/1/2003
Arrived at Rainbow Bridge - 1/5/2018
There isn't enough words to describe how exceptional Remy was. I have never had a cat that was so loyal, smart and loving as she.
From the moment I laid eyes on her I knew she was meant for me. Rescued from abusive prior owners and adopted by me. Remy loved me more than any one ever has. Our day to day lives revolved around each other. She went anywhere I went, and to Hell and back. She spent her lifetime in my arms, constantly by my side the entire time I was ill. She saved my life so many times. I only wish I could have saved her in the end.
Letting her go was by far the hardest thing I have ever had to do. Remy had separation anxiety and I wanted to go with her. She took so much of me with her. I am a broken Mama. Only thing I can happily say is. "Remy was mine" and I belonged to her. I was so very fortunate to have had her for 14 yrs. I keep her with me at all times. I will never leave her alone. I love you BabyGirl.
Riley Lutz
Beloved Dog of Linda Lutz
Arrived at Rainbow Bridge - Unknown
Rocky Gordon
Beloved Cat of Lorrie Gordon
Arrived at Rainbow Bridge - June 23, 2015
Sweetest boy. Miss you everyday.
Rosette Sciarra
Standard Poodle
Beloved Dog of Peter Sciarra
Arrived at Rainbow Bridge - November 2, 2015
Ruby Lally
Eclectus Parrot
Beloved Bird of Marie Lally
Arrived at Rainbow Bridge - August 2006
Rudy Pinzhoffer
Pug (Rudy on right, with brother Baby on left)
Beloved Dog of Andrea Pinzhoffer, Beloved Brother of Baby
Arrived at Rainbow Bridge - 6/30/2020
"Today Heaven Has Gained Another Angel, While We Have Lost Another Piece Of Our Hearts......Rest in Peace, Dear Rudy.